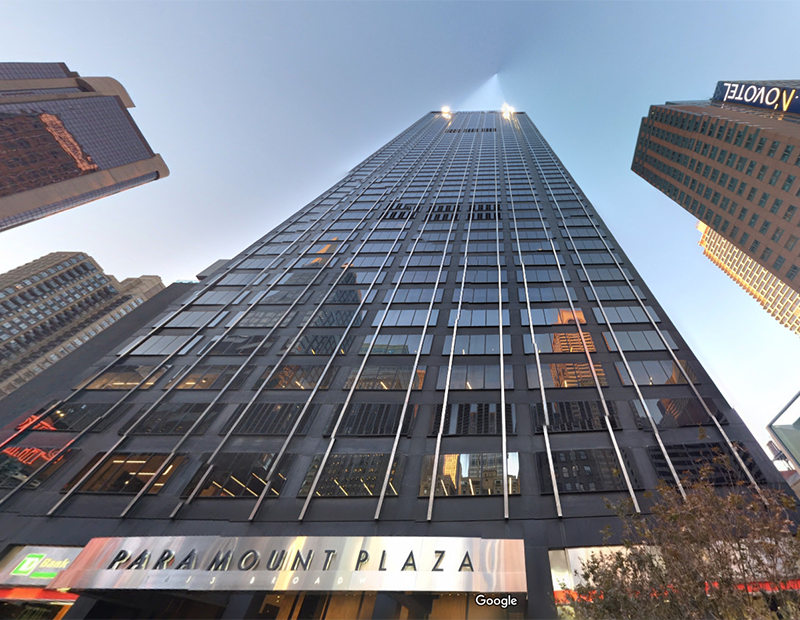 To see the full project profile, click the link below:
Paramount Plaza Project Profile
Location: New York, New York
Roofing Contractor:
C & W Roofing
---
In 1992, a major renovation program was conceived by Der Scutt Architect, which included the need for a new roof. The building in question—Paramount Plaza, the 670 ft, 48-story skyscraper on Broadway in Midtown Manhattan.
Syneraction, Inc. was retained as the roofing consultant. Syneraction developed a system selection procedure as well as specifications, details, and bid documents for the system chosen.
The reroofing project presented a challenging array of performance considerations and job conditions: these included unusually high winds, frequent thermal shock loading, asbestos containment of the existing roofing materials, heavy maintenance foot traffic, high levels of environmental pollution among all of the other extremes that high-rise roofs are generally subjected to.
The review of reroofing options included a variety of single-ply sheets, preformed modified bitumen sheets, and conventional BUR. Each of these options presented a compromise of safety or performance. One system beyond compromise: Barrett RamTough Elastomeric BUR in a protected membrane configuration.
Barrett's engineered materials have dramatically increased BUR's performance with Elastomeric Polymer-Modified Bitumens and Spunbond Polyester Reinforcements. These components provide a seamless roof unsurpassed in performance by any other roofing system as acknowledged by an increasing number of roofing consultants nationwide.
BUR's dependability and redundancy combined with Barrett's engineered components provide a roofing system that is simply the highest performing, toughest roof available—The ultimate high=performance option by design.
From the roof of 1633 Broadway, twelve other recently completed Barrett projects are visible. They exemplify the diversity and quality of Barrett RamTough roofing and waterproofing systems.